Were you looking for the manga called Arakawa Under the Bridge?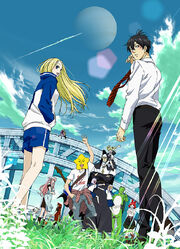 Arakawa Under the Bridge (荒川アンダー ザ ブリッジ Arakawa andā za burijji) is an TV anime series based on a Japanese manga series created by Hikaru Nakamura. The anime was initially a 13 episodes series by the studio Shaft and was directed by Akiyuki Shinbo. It was announced in August 2009 and aired on TV Tokyo from April 4, 2010 to June 27, 2010. NIS America announced that they have licensed the first season and released it in a premium Blu-ray/DVD combo set on July 5, 2011 and as a Blu-ray or DVD only (Japanese with English subtitles; subtitles embedded on blu-ray version) on January 29, 2013.
A second season, titled Arakawa Under the Bridge x Bridge (荒川アンダー ザ ブリッジ*2 Arakawa Andā za Burijji x Burijji), aired in Japan between October 3, 2010 and December 26, 2010.
For the first season, the opening theme is usually "Venus to Jesus" (ヴィーナスとジーザス) by Etsuko Yakushimaru (eps. 2-4, 6-13), while the ending theme is "Sakasama Bridge" (逆様ブリッジ) by Suneohair. Episode 5 of the first season has a special opening theme, "Title nante Jibun de Kangaenasaina" (タイトルなんて自分で考えなさいな) by Maria (Miyuki Sawashiro).
A live action drama series (2011), special (2011), and movie (2012) were also made, largely featuring the same shared cast.
Synopsis
Edit
From MyAnimeList:
Kou Ichinomiya is the son of a wealthy businessman who holds firm belief in his elite status. As such, he is determined to avoid becoming indebted to anyone; but one day, after a run-in with some mischievous kids on Arakawa Bridge, he ends up falling into the river running underneath. Luckily for him, a passerby is there to save him—but now, he owes his life to this stranger!
Angered by this, Kou insists on paying her back, but this may just be the worst deal the arrogant businessman has ever made. The stranger—a stoic, tracksuit-wearing homeless girl known only as Nino—lives in a cardboard box under the bridge and wants only one thing: to fall in love. Asking Kou to be her boyfriend, he has no choice but to accept, forcing him to move out of his comfortable home and start a new life under the bridge!
Characters
Edit
Main
Supporting
External links
Edit
Blu-ray