Chief calls himself a Kappa.
A Kappa is a Japanese Mythical Creature.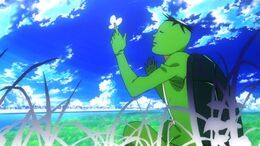 A Kappa is said to be based off of the Japanese Giant Salamander and Turtles.
The Myth is to scare children away from lurking near or in rivers or lakes. Since they are said to lure people into water and pull them under.
During Episode one Nino says to Kou "He's a Kappa as much as I'm a Venusian"