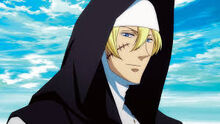 Sister is a man who dresses up as a Nun.
Sister used to work in an orphanage in England. One of the Children he watched there was Stella. He taught her the game "Fight Club".
In Episode 4, When going to get Ingredients for "Stella's Welcome Cake". Maria calls him a bunch of rude names and when he only apologizes about them. He then he faints when she calls him a bore and Kou Ichinomiya describes the sound as "an elephant collapsing."