Stella is an Orphan who came to Japan to see Sister who used to watch over her in England.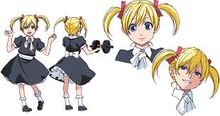 Stella is left with Kou when everyone else runs away from watching her. She calls Kou her "Big Brother".
When Kou asks her what she wants to play she says "Fight Club". Let's Just say Kou failed miserably. When he lets Stella hug him she says "From now on, you belong to me.".
Stella gets called Boss by Tetsuo and Tetsuro.