Chief is the person who gives everyone their names.
He Calls himself a Kappa.
His real name is Sonchou.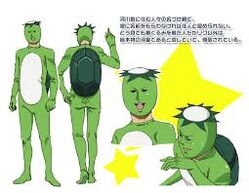 He gave Kou the name "Recruit" then after Kou refuses he gives him the name "Naitei Toreta" Kou immeditly asks to be called "Recruit" again.
Chief gave Nino her name after seeing her Jacket that says "Year 2, Class 3"